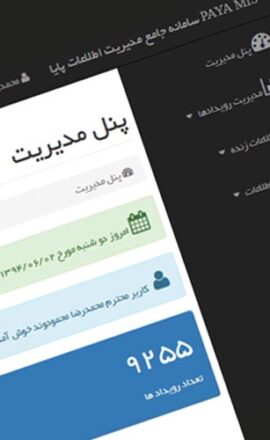 DCS DAS
Data Acquisition Suite
DCS DAS suite provides a comprehensive solution for addressing the problems and improving the performance of Provox. The package consists of various modules that can be employed based on requirements of each operation unit. The first module deals with event management in the process unit. The second module monitors and examines values of existing tags in the unit with no space or time limitation. The third module functions as a data historian to archive tag values to eliminate time limitations in recording data. The package, with a standard user interface in English and Persian, is provided in web-based and OS-independent format with particular settings.
Features:
Developed based on Web Application
Independent of OS settings and installable on operator stations
Unlimited access to software environment at any place and any time based on user levels
Based on User Experience (UX) design
Can be installed and launched on tablets and smart phones
Comes with a feature for defining different users with different levels of access to software
DCS DAS includes three independent parts as following:
  1- Event Journal
This module manages all alarms and events in the operation unit and process control systems. In case of any small event, including any change in tag value, opening or closing a pump or members entering or leaving workstations, required data will be recorded in the database within a fraction of second for further tracking. This will provide experts and engineers with a huge amount of data on all events and alarms that can be controlled and traced using the event journal. For example, in case of shutdown or interruption, these data can be easily used to detect and trace the events involved. The advance search feature included in this module makes it possible to filter and search for certain events and obtain a report in Excel.
Prominent features:
Recording all alarms and events in the control system and operation unit within a fraction of second
Online display of events without any need for refreshing the page
Quick and easy search in the event pool
Advanced and filtered search of events
Web-based implementation with no need for particular OS or settings
Spatially unlimited access (from the site, workstation, control room, etc.)
2- Data Monitoring
It is crucially important to monitor performance of equipment installed in industrial units. Operators are responsible for observing status of tags by means of control and monitoring software tools. This approach, however, has some limitations. For example, if the unit manager wants to examine values and accurate performance of a tag, he should use operator stations at the process unit. A better solution is provided by the data monitoring module in DCS DAS. Information related to each tag can be accessed without any spatial limitation. These online data will be displayed on a customized screen. This can be done through manager's PCs at remote places far from the industrial unit or an engineer's computer at site. Since DCS DAS is a web-based package, data can be even provided through smart phones and tablets for managers and engineers.
Prominent features:
Unlimited online access to tags and data of interest
No limitation on places and systems through which data can be monitored
Online display of information with no need for refreshing pages
Customized display for monitoring of data upon operator request
Access to information through smart phones and tablets
Classification of tags by type of operations
Advanced search for tags and online viewing of data
  3- Data Historian
An important part of data monitoring in industrial units is to examine performance and values related to equipment over a period of time. For this purpose, data must be archived and displayed based on a proper structure. This can be done through viewing data trends. The feature is quite limited in old control systems and their relevant software. The time limit for archiving and keeping data in such systems is at best 72 hours. This will limit access to the data recorded more than three days ago. Some DCS systems provide historic data records which are only available on engineering computers (e.g. VAX) making it very difficult for operators to access this information. Lack of access to and analysis of older data is a weakness of some control systems. DCS DAS archive module provides a solution to this problem.
Prominent features:
Access to archived data at any place and any time
Unrestricted display of data trends
User-friendly interface for management and access to archived data
Automatic trend plots and accessibility of data and trends over longer periods of time
Making trends and combining tags in an unlimited fashion
Narrowing down time intervals for better understanding of certain trends